Why come to us?
Whether you're interested in finding out more about acrylic signs, shop fascia signs, vehicle graphics, labels or banners, give us a call. Based in Malvern - we are perfectly located for business in the Midlands.
Gloucestershire
United Kingdom
Sun

Reviews
Our news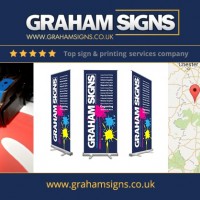 Graham Signs UK boosts local and global online presence with marketing specialist SeoSamba
Worcester, UK - 03/05/2016 - UK's leading local sign and print services company Graham Signs just launched its new website to showcase its original and innovative signage solutions with the help of online marketing specialist SeoSamba, Inc.